The definitive guide to
Business casual
Once upon a time, dressing for the office was a doddle. Now that a more relaxed business casual dress code has taken command of offices across the nation, a suit, shirt and polished shoes won't cut the mustard any longer. Dry your eyes with a recently retired tie and heed our advice; we promise it is easier than it looks to get the knack of. So…what is business casual, then?
Shop business casual
First gear
When you're making your first foray into the realms of business casual the biggest hurdle is figuring out what business casual actually means. Broadly speaking it is chinos or trousers, a pressed shirt and a jacket. It's a gentle loosening up of classic business attire and doesn't need to be daunting.
Your first purchase should undoubtedly be a versatile navy blazer; it will become your new best friend.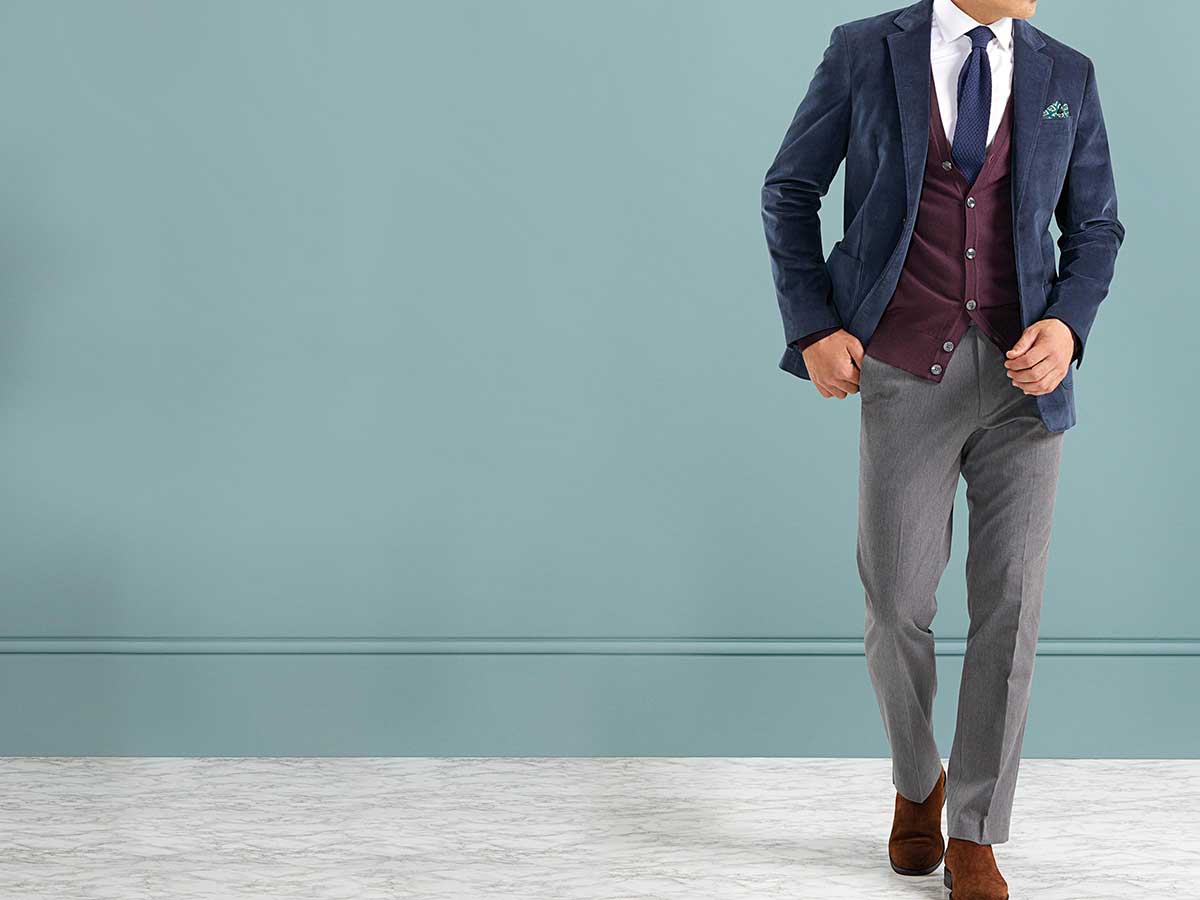 Recasting classic pieces in different weaves and fabrics award this look its business casual qualifications. It requires a second (or third) glance to pick up on all the detail. Clashing textures – from the cord jacket and merino cardigan to the wool tie or the suede shoes – give a little more to love than the eye takes in the first time around. A basic rule of thumb to stick to when pairing separates is to ensure that your trousers are always a little bit lighter than your jacket.
Let me see the first outfit again!
Can you wear jeans for a business casual dress code?
I don't really have many other trouser options…
@Johnathan whittle
Strictly speaking, jeans are not business casual attire for men, BUT, it really depends on your workplace. Start-ups and smaller companies are less likely to have rigid rules. It is a better idea to choose chinos (our non-iron variety will guarantee you stay smart) or tailored trousers. There is no reason to choose a pair that look just like your suit trousers – have a play around with colour or texture. If you decide that jeans are the only trews for you then choose a darker coloured pair, make sure they fit you properly and are free from grubby marks or stains.
Put the Feelers Out
Congratulations, you've made it to the second stage! Here we learn about colour and opting for the not-so-obvious choice.
If you're just starting out with your business casual wardrobe then you might not automatically choose this olive green Lambswool Jacket, but the deep mossy shade and classically elegant shape make it easy to wear. We consider it a more office-ready version of tweed, which is just about the most British thing a man can be seen in. Special attention should be paid to how the colours have been selected: the pocket square picks up shades from the shirt, jacket and even the shoes, pulling it all together in one fell swoop.
A LITTLE LAYER NEVER HURT ANYONE
Start with a deep coloured, soft collared shirt, add a zip-up merino, and then introduce it to your jacket.
The zip-up merino is a deft touch that looks modern whilst being reliably easy to wear; an unstructured jacket is a straight-forward way to lose stiffness and formality without looking too casual. And the clincher? Tassel loafers. Business casual shoes tend to be the last thing to be remembered, but these are a smart bet which add a little flair. Dress-down Friday will never look the same again.
Show me that last getup again
What shoes do I wear for business casual? Do I just wear my regular work shoes?
@ Adam Edwards
We hear this question popping up more and more often. While you certainly can wear your formal shoes, you have scope to wear a much bigger variety. Black is much less ubiquitous in business casual environments so brown or navy shoes should dominate your collection. You can't go wrong with loafers or brogues in leather or suede, and anything with a little extra detail or colour – like these derby shoes with brogue detailing– will go a long way to making your outfit extra special.
The Final Round
If the first outfit is a lager shandy then this a dram of grandad's finest whiskey. While the setup is the most traditional (shirt, tie, jacket) the execution is anything but conventional. It's this dichotomy which makes it so masterful.
These trousers are just the right shade to feel a world away from your navy suit but not bright enough to cause a stir; the clashing colours a stroke of genius that are quite delightful to behold. We'd hedge a bet that you can carry this off.
One day we will figure out how to dress in merino head to toe and still look work appropriate. Until that day we have this.
The business casual dress code is about opening your horizons and giving you more options, so don't be afraid to test the waters. Replace your shirt for a polo collar merino and your jacket for a merino blazer. The fabric adds to the casual aspect, while the traditional shapes hold up the formal end of the bargain.
If you feel like creating a real splash, you could do worse than trying out a pair of burnt orange chinos.
Details make the
Difference
Now that you have graduated our 3-step master class in business casual dressing, we thought we'd add in a few sure fire tips to take away. Think about incorporating them into your dress-down wardrobe as your homework for the day.
double trouble
A navy blazer is a no-brainer, but a double breasted navy blazer will take you to the next level of your sartorial game.
Shop double breasted
roll up
Practical, stylish and entirely appropriate for the office; leave the shirt at home and take your roll neck for a spin instead.
Shop roll neck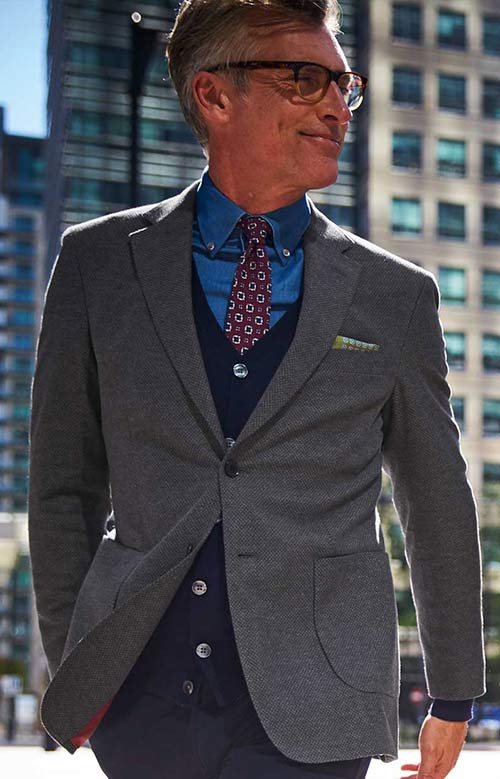 chambray, you stay
Denim jeans might be a no-no but a denim chambray shirt, complete with a button-down collar and fetching tie is a yes-yes.
Shop chambray shirts
Ask us anything about business casual and we will try our darndest to answer it for you.
Ask question